November 19, 2014
States I Have Visited
I am sure of these states. I was probably in Oregon too but don't remember as I was young (I do remember WA though)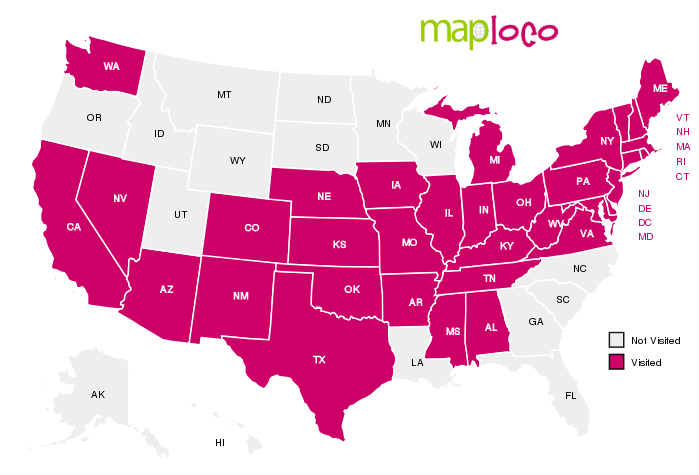 Create Your Own Visited States Map
Posted by Bogie on November 19, 2014 at 07:19 PM in Life in General, Travel | Permalink | Comments (5)
June 26, 2014
Riding Off
One of the gals that I rode with several weeks ago recieved a video (sorry, can't seem to embed it in the post) from one of the passengers of the Essex Ferry we took from NY to VT. Comes with sound too! I am the 4th rider off the ramp (on the best looking bike of course - LOL)
Here is a slideshow of pictures that I and the rest of the queens took on the trip.
</P
Posted by Bogie on June 26, 2014 at 06:28 PM in Motorcycles, Travel | Permalink | Comments (1)
June 19, 2014
Wednesday Happenings of Note
Two things of interest happened last night:
STBX is now the EX. I don't have the paperwork, but he texted saying he got the final paperwork from the courts.
Interesting phone call from a former co-worker and good friend. Things may be afoot, but too early to tell. I may have an opportunity to go to Isreal though. If it pans out, I'll have to get a passport.
Posted by Bogie on June 19, 2014 at 07:01 AM in At Home, Changes, Travel | Permalink | Comments (1)
June 08, 2014
Americade 2014
Left 6 Am Wednesday morning to meet a bunch of gals I know on a motorcycle forum in Chatham, NY for breakfast. Met some Blue Knight riders there (retired police officers), and they bought us breakfast - great way to start a trip! 
Then we rode to Lake George, NY to experience a bit of Americade (a biker rally). Yes, I know I went backwards to get there - I could have gotten to Lake George in just a little over the time it took me to get to breakfast. We spent some time walking around and shopping before finding our hotel for the night.
Thursday we left to go riding thru VT, taking the Essex Ferry from NY to VT. We stopped at the Dutch Mill Restaurant in Shelbourne, VT where the owners took great care of us. Mary (owners wife and hostess) was great. She had a fantastic sense of humor and was very friendly. The owner ran out to move his van when we arrived so that all 10 bikes could sit on fairly level ground. The food was very good and I heartily suggest stopping by there if you are ever in the area! She took pics with us - and this one really captures her spirit and personality (she is in the dress and the cook is the guy in back):
We ended up in North Conway, NH about 8 PM to spend the night. Then on Friday we rode thru the White Mountains. Some of the gals braved the Mt. Washington auto road even thought the weather was sucky (very foggy and fairly cold). I didn't go, with my fear of heights (and no gaurd rails on the road), and opted to do an alternate ride on the Kanc and thru a few of the notches. We got to Bentley's in Maine about 6 PM, where we spent the night.
Yesterday morning we road to the beach to walk the sands, then we all started the trip home. Some of the gals came from TN and GA, so they still aren't home now. There were several NY gals, who made it home shortly after I did - about 3 PM. I had a great time with the gals - I had never even met 8 of the 9 women. The one I had met, it was just for a short time 2 years ago, so I was unsure how the personalities would work out. But we did great together and I look forward to another ride together - perhaps next year.
Here are  a few pics from the ride: Americade, ferry ride, VT, Kanc, Bentley's
Posted by Bogie on June 8, 2014 at 07:50 AM in Friends, Motorcycles, Travel | Permalink | Comments (3)
May 26, 2014
Plymouth Trip
Last weekend I went with a friend down to Plymouth, MA to play tourist and to see the "rock" and "boat". The first thing we hit was Plimouth Plantation (no, that isn't a misspelling): It was facinating to get a close up of the rushed roofs, tools and implements and fences. Especially facinating were the stacks of wood which were placed in a circular pattern. Actually makes a sort of sense. There were people in character there doing chores and answering questions in what was believed to be the accent of that time period.
My friend got a couple of decent pictures of me (God, I'm slouching - I obviously have been neglecting those muscles when I work out).
Then we went to the shore to see Plymouth Rock and the Mayflower II. While visiting the Mayflower, a paddleboat went by. Those are always cool to see. Plymouth Rock is protected by a pillored monument, whcih has a dedication enscribed.
While walking off our lunch, we saw this memorial to fallen First Responders.
Had a great time playing tourist. Felt a bit guilty that I took a full day off from getting anything meaningful done, but sometimes you just have to do that.
Posted by Bogie on May 26, 2014 at 08:14 AM in Science, Travel | Permalink | Comments (3)
September 08, 2013
Riding in the Rain

Coming home from the Cape, I had a dry ride all the way thru MA (did hit wet roads though) then when I got to the NH rest area, the skies let loose. I waited out the first bout of rain, took off, and about 2 miles down the raod ran into another deluge.
Even the cars ahead of me slowed down to 45 MPH (on the highway, where we had been going 75-80) and put on their flashers. It even hailed a little (teeny, tiny hail). The most amazing thins is that other drivers were extremely curteous and kind to this biker - they stayed well back from me, if they passed, they did so at the far left side of their lane and pulled well ahead before pulling in front of me. I am so used to other drivers trying to kill me (hey, that's the way you have to ride) that I was almost stunned by the change in driver behafiour.
I did finally hit drier air and made it home safely.
The time with SIL was exactly what I needed. even though it was cool, dark and damp, we had a great time. We did a lot of walking, window shopping (and a bit of clothes shopping), eating (ice cream - lots of ice cream), and working out. The time share had a great gym so we could work off a few of the calories we injested. We also played a round of mini golf (I need lessons from HH because I lost badly).
even with the weather, we had a great time and I really appreciated being able to get away and forget everything for a while. Even the ride in the rain was good!
Posted by Bogie on September 8, 2013 at 07:17 AM in Family, Motorcycles, Travel | Permalink | Comments (1)
August 31, 2013
Travels
WS left Thursday morning on the bike - heading for Kansas and his family reunion. That night he spent the night in PA. Last night he had made it to St. Louis for the night. Should make it to the Kansas clan and shindig today.
I am heading out with SIL (she driving and me riding) and we are headed for The Cape. She was gracious enough to invite me for a little fun, sun, relaxation (and forgetting that today is technically WS and my 28th anniversary) - and just plain time away from everything at a time share she has for the week. Work has been a bear too, so I really need this outing. It is only for the weekend (for me), but I will try to make the most of it.
So, no more posting this weekend - I'll catch you on the flip side.
Posted by Bogie on August 31, 2013 at 05:10 AM in Motorcycles, Seasonal, Travel | Permalink | Comments (3)
May 26, 2013
Some New States
Ws left Wednesday morning, with a bunch of his buddies, headed to DC. The participte in the Run to the Wall almost every year, and this year WS really needed some time off. He won't be back until Tuesday.
I took a couple of days off of work myself. Like last year, I planned a solo, overnight trip on the bike leaving Friday and coming back on Saturday. I almost cancelled because of the forcast; rainy and in the 50's Friday, rainy and in the 40's on Saturday - even down south where I was planning to ride. Thursday night I was bummed, figuring I wouldn't go. Friday I woke up with a different mindset and set out for a couple of states that I haven't ridden in before; Rhode Island and Connecticut.
HOG (Harley Owners Group) makes it easy to have a destination if you are going for a ride. They put out a book of state maps with all the Harley dealers pinpointed. Those of us like me that have no set agenda, but want to ride somewhere, can pick a Harley dealer in the area we are interested in and immediatly have a destination for our ride.
I didn't want to deal with all the crowds ezpected for the holiday weekend on the coast, but was in luck because Ocean State Harley has a shop in Exeter, RI that is away from the hustle and bustle of the beach. I road thru rain all the way there, but it was warmish, so no big deal. I stayed on surface roads, so avoided the major road spray from fast moving traffic on the highway.  With just one 45 minute detour, missing a road that I should have taken, I arrived at my destination in Exeter.

It felt strange as I was the only bike in the parking lot and the building didn't have any signs on it, but I had found the right place. After perusing the shirts (and buying one), I bid fairwell to the nice folk at Ocean State Harley. I sat on their porch to re-affirm my route to my destination in CT before heading on my way.
It seemed the rain ended about the time I entered Connecticut. It stayed dry until I reached my next destination, TSI Harley in Ellington. Once again I was the only bike in the parking lot, but at least the building was well marked so I knew I had the right place.

Once again I perused the merchandise, selecting a long sleeved t-shirt. The folk were friendly, as expected. As I started backing my bike out, it started misting. One of the service guys came out to do something, looked at me, held out his hand to feel the mist and raised his eyebrows. I yelled that I had started out in the rain, so it didn't really matter at this point.
I stayed the night at a Holiday Inn in Vernon, CT. that night the rain came down in earnest and it continued throughout the next day. I had semi-planned to head to a Harley dealer in Bristol CT (and meeting up with another lady rider that I knwo from NY) before heading home. But since the other rider was staying home, and the worst of the rain was directly overhead Bristol (and was stying there, naturally), I decided just to head on home. It wasn't only supposed to be rainy, but the high in CT was only to be 49 - not as high a temp was forcast for further north - I was glad I had the foresight to pack long underwear anyway.
I had in mind another Harley shop that I could visit in MA, with a slight 10 mile detour. But, decided not to since I was chilled thru the ride and it was still raining. Although I was dry (rain gear and leathers are great), I just wanted to get home where I could warm up. Plus I knew that the rain could intensify at any time and the ponding on the roads was already enough to make me careful and watchful for areas that I needed to avoid.
Once I hit RindgeNH, I stopped at a DD for a cup of coffee. I needed a break, anyway and decided that would be just the ticket.

I got home early afternoon safe and sound, got all unpacked and headed into the house. The inside temp was 64, so I turned on the heater. The temp outside was 46 - the warmest outside temp I saw all day.
I got to color in two more states on my vest patch and had a good time. I never thought about work (which I really needed after the massive hours I have put in for the last 4 months or so). And, I couldn't help wondering what all the people that saw me on the road thought. After all, I only saw 3 bikes and 2 scooters during my travels. Did they think I was crazy? Did they think I was dedicated. Did they think I had no choice? Me, I just though, yeah, I'm a BABC QOTR.*
* No, you won't know what that means, but all my sisters over at the HDForums Lady Rider section know exactly what that is.
Posted by Bogie on May 26, 2013 at 06:03 PM in Motorcycles, Travel | Permalink | Comments (3)
July 15, 2012
Patched
On my vest, there is a patch of the United States (and a bit of Canada). Up until our trip to Indiana, I have only been able to color in 5 states; Maine, NH, MA, Vermont and NY. The patch almost looked like it was bare.

However, with the additional states from the Indiana trip filled in, it actually looks like I've been somewhere!
Posted by Bogie on July 15, 2012 at 05:28 AM in Motorcycles, Travel | Permalink | Comments (13)
2,530
2,530
That is how many miles we road in 6 days. Technically, we rode those miles in 4.5 days as from 6 PM Friday until noon on Sunday, the bikes didn't move an inch.

We left early Thursday morning and took Rt 9 thru NH and Vermont. In NY we picked up Rt 7 – a big mistake. Nice road and all, but slow, slow, slow. After a couple hours on that road, we had made very little progress so we hopped onto US 88 which took us to Pennsylvania. There we got on Rt 6. Another mistake. Although faster than Rt 7 had been, it was still slow and we needed to pick up the pace. So, we did what we were hoping to avoid and hit the big highway and took that to Du Bois, PA where we spent the night. The next morning we hit the highway and rode all the way to Sturgis. The whole ride was hot, hot, hot. I later heard on the news (at 7 PM) it was 100 at that time – so we were probably riding in 105 or so. We stopped a couple of times and I grabbed two drinks at each stop; one water and one slushy-type drink, and drank them simultaneously. At the second stop before Sturgis*, we stayed in the convenience store for about 20 minutes. It wasn't all that cool in there, but better than outside. I finally got smart and went to the restroom, washed off all the sunscreen (which was keeping me from sweating very well) and ran cold water over my wrists, fore arms and inside the elbows. That cooled me down pretty well. Then we went to the Sturgis* Harley dealer about 2 miles from the convenience store and browsed for about 20 minutes. I now have a shirt from Sturgis*. When we left the Harley dealer, we turned back south and headed for our destination of North Manchester, IN (just south and west of Fort Wayne.

We had a great visit with Heather and Harry. They kicked one of the kids out of her room so we had a place to sleep (poor girl had to room with her sister). Saturday night, WS got to looking at a map of the states and decided that just adding PA, OH, MI and IN to my repertoire wasn't enough; he was trying to figure out how to get some more southerly states into the mix. After explaining the route he was contemplating, it was determined that we needed about 6 more hours of ride time to be able to do it. So, we decided to get out of Harry and Heather's hair early and leave noon Sunday instead of Monday morning.
H&H made us a great send-off breakfast (almost brunch) of biscuits and gravy with French toast after which we packed up and got on our way. Everything was great until somewhere in KY, where we ran into a storm. We could see it coming our way, but it was hard to tell if we were going to hit it as the direction of the road changed constantly. However, once the temp dropped about 20 degrees, and a few drops of rain fell, we stopped and put on our rain gear. We got back on the highway and the rain got progressively worse. It began pouring so hard that traffic slowed to 30-35 MPH and everyone turned on their emergency flashers. Then the wind started. After a while (with the rain still pouring and speed still at 30-35), the wind made it almost impossible to stay in one lane. Behind tree screens, we would regain control and get to the right side of the lane. Wherever the tree screen broke, we would be blown all the way to the center line even though we were prepared and leaning into it. We finally found an off ramp and followed it to an underpass. We were not the first there, just the driest. Two bikers were there without any gear at all. The wind howled and the rain continued to come down in sheets. Even cars were seeking shelter. Then, the wind shifted and came from the opposite direction. WS and I agreed that if we heard a train, it would be time to panic.

Fortunately, we never heard a train (tornado) and the wind and rain eventually died down enough for us to get back on our way. WS walked out from the underpass and found that there were train tracks about 50 yards behind our position. We would have freaked if a train had passed at that time! We had holed up for about 40 minutes but the rest of the trip to Lexington was uneventful.

After a good night's sleep, it was back on the highway to go thru several more states; Tennessee (thru Knoxville), Virginia (thru Roanoke and Winchester – the Shenandoah Valley is very pretty!), and West Virginia before stopping for the night. We had hoped to spend the night in southern Pennsylvania, but a traffic jam that cost us an hour, then a stop to don rain suits, made that impractical. The last leg of the journey on Tuesday was a long one thru a bit of Maryland, thru Pennsylvania, then New York (on the Taconic), Massachusetts and Vermont before winding up home shortly after 8 PM.

The dogs and cats were happy to see us (and we, to see them). The neighbor kids had done a bang up job of taking care of both the animals and plant life, vegetable garden and potted plant, while we were gone (it doesn't hurt that we pay them well). Wednesday we recovered from our whirlwind tour, doing laundry, putting things away, washing and waxing my bike (WS had waxed his the day before we left).
*Sturgis - the one in Michigan, not the one in South Dakota.
Posted by Bogie on July 15, 2012 at 05:26 AM in Friends, Motorcycles, Travel | Permalink | Comments (2)