April 16, 2017
1st Day of HOT Training
They kept us pretty busy thru the Harley Officer Training (HOT).The Introduction to the training was held in an auditorium with all attendees.
This year's theme of the training was "No Boundaries". That was in reference to the boundaries that we, and our groups place on ourselves that can limit chapter growth, member retention and yes, even the riding and fun.
Sometimes I felt like I was back at high school changing classes every hour or so. The first class for everyone was Building Strong Foundations. Although these classes went on in several different rooms, each chapter was placed at one table. We were lucky and our Sponsoring Dealer attended training also, so we could all discuss what we wanted out of the training and preliminary planning for putting that in action
After the planning stages, the schedulers had broken up the Chapters by placing members in different classes. Somehow they knew that I was the one that am not comfortable with other people, so they managed to always place me in a class by myself (except one class on day two). Most of the other Chapter members got one other familiar person in their class.
My second class was Inspire thru Leadership where we were introduced the reason for HOG, what rules the Company institutes for HOG Chapters and ways that leaders handle challenges.
My 3rd class was a "Powerpack" or bonus class that we got to pick from and I chose Using Social Media. I learned a few things about posting picture do's/don't's and a few things to put into action for emails to new members.
My 4th class was Forging the Dealer-Chapter Relationship. We broke into groups and were asked to think as  a sector of the Chapter - Sales, Engineer, Designer, Production/QA (this coincided with the 4 types of people that started the H-D brand/company). The groups were self-determined thru personality types and my group was "William - the Production/QA person who listened and didn't talk a lot. Each group was given an exercise and to share results with the entire class. Once again I became the organizer. My work experience with leading meetings was certainly coming in handy by keeping group members on task and leading them thru the different aspects that we were asked to consider.
That evening HOG hosted a dinner with entertainment. I was not originally planning to go as I was all peopled out, but decided to attend the dinner. The had screens set up where pictures taken thruout the day were presented on a slide show. Much to my surprise, my mug was captured.
While everyone else stayed for some of the entertainment (a cover band, alcohol and dancing), our dealer and I headed back to the hotel as neither of us drink (okay, she doesn't drink at all and I rarely drink), nor fully appreciate bashes with all kinds of strangers. After a full day, it was nice to curl up with the Kindle and just decompress.
Posted by Bogie on April 16, 2017 at 08:56 AM in Motorcycles, Travel | Permalink | Comments (2)
Buffalo Side Trip
On the way to Harley Officer Training, we took a small side trip to a Buffalo Harley-Davidson dealer. They had an area that showcased some old bikes, which was the best thing about that shop.
Posted by Bogie on April 16, 2017 at 07:59 AM in Motorcycles, Travel | Permalink | Comments (1)
June 21, 2015
Relaxation Time During Bike Week
Last week was bike week here in NH so I took a couple of days of to do some riding. Thursday morning I left the house before 8, road to NHMS and got my HOG event pin (only HOG members can get it), then off to Weir's beach to cruise the boulevard and get my picture taken. Didn't even stop - just hopped on Rt. 3 and headed north.
I was staying the night in North Conway, NH, so headed there first, identified where my hotel was, then road a couple of the notches (Pinkham and Crawford). Here are miscellaneous pictures of my trip up.
That evening, I met up with a friend and his riding companions, who came down from Canada. I use the term "friend" loosely as I only know him thru Facebook. Originally he thought they were staying in Woodstock, so the plan was to meet them Friday morning for breakfast. However, on Wednesday, I found he had been mistaken and their motel was just a couple of blocks from mine. Here is the crew - FB friend is across the table from me.
Their group was made up of great people, and we met again for breakfast the next morning. Then we went our separate ways; they were headed to Weir's Beach, I was headed for more notch riding (Dixville and Franconia) before riding for home.
More miscellaneous pictures of my eventual trip home.
I wish I had gotten some pictures of 13 MIle Woods, but that was a narrow, twisty road and I needed all my concentration so didn't pull out the camera. I also didn't realize that I was passing right by Shrine of Our Lady of Grace in Colebrook - a place for blessing of the bikes until last year. I should have stopped and taken pictures, it is a beautiful place that I've been to a couple of time for bike blessing (the last in 1996 or 97).
Had a great time, met some great people and put about 550 miles on the bike. Not much considering that I rode for about 7 hours each day (by coincidence, arrived at my destination both days right at 4 pm - left both times just before 8 - take away gas and rest stops to get 7 hours). However, until I jumped on the highway at Plymouth to head home, most roads were fairly low speed limits.
Posted by Bogie on June 21, 2015 at 06:42 AM in Motorcycles, Travel | Permalink | Comments (0)
April 11, 2015
Birthday Vacation on the Island
The Outlaws (they aren't really true in-laws anymore - LOL), that used to live in the next town over, moved to Rhode Island last fall. More precisely, they moved to an island, off of Rhode Island, to manage a timeshare resort. They kept telling me I should go out for a visit. Since I get my birthday off work as a holiday, and my BD fell on a Friday this year, it was a great time to take a 3-day weekend to go visit.
The tourist / vacation destination of Block Island, has not yet gotten underway so most "attractions" were not open, but that was okay, I wasn't going for ice cream, specialty chocolates or any of that stuff - just get away, see BIL & SIL, and generally recharge.
I left Friday morning to make the 1PM ferry (ferry only runs 3 times/day at this point, so timing is everything). As usually happens when I take vacation, I left in 40 degree weather and it was raining. It was the same when I got to the docks, and was supposed to stay that way for most of the weekend. Oh well, I expect nothing less! The view from the ferry was less than spectacular
So, I ended up taking a nap. Don't get to do that often, and obviously I needed it because I woke up just as we were approaching the breakwater of the island 55 minutes later. I texted SIL when I landed, and she came to get me; the timeshare community was only a couple of blocks away so I didn't have to wait long.
The rest of Friday afternoon I spent talking with SIL as she was finishing up ordering of linens and dishes needed for the units before prime season began. They had given me a room (thank you so much guys!) since they weren't full up yet. I also accompanied BIL to the dump, where I helped unload cardboard from kitchen cabinets that he had installed in some of the units. We also stopped at the local hardware store for plumbing supplies to finish installing kitchen sinks. With that, I got some idea of the lay of that part of the island, and BIL gave me histories of some of the features we passes (like "New" port - which used to be a lake and was opened up to the ocean for more portage).
That evening we walked to one of the few restaurants that was open for fish fry - walking is the main transport as everything is right there at the port, so it doesn't make sense to drive. At that point the rain had turned to intermittent drizzle, so we didn't get too wet. The fish was fabulous and we all returned to the resort gorged. I broke out the kindle and got in some reading before calling it a night.
Saturday I awoke to 40's, gray skies and massive wind. After making some tea, I curled up with the Kindle and read a bunch more. The outlaws expected several parties to arrive from the 1PM ferry, and they were doing last minute preparations, so I was left to my own devices. I walked the street along the beach and found the water was very pretty.
When I returned, it was shortly before the ferry was expected. SIL needed a couple of things done, so I was happy to help out. Then some of the guests started to arrive, so I retired to my room for more reading.
After the commotion died down, I decided to go walking a different direction. Even though it was still mighty windy, the sun had come out and it was warming up some. I found one trail, which I followed until it appeared to be getting close to town, then turned around to find more outlying area. I found the airport and the local air taxi. I was fascinated with the tail emblem and then suddenly realized it was the shape of the island.
After detouring for the pictures, I kept heading out, where I found another trail that went past this driveway.
Above the steps, I found that I was behind and above the airport
I was debating whether to go along the trail further (I was off the trail for the above pics, when I received a text from SIL asking where I was. I replied "I'm on some trail behind the airport." She replied that she wanted to make sure I wasn't bored. Ohh, no way! I decided to head back the way I had come as I wasn't sure how long the trail would continue before it found another road. When I got to the bench, I got another text from SIL saying she had ordered pizza and it would be ready in about 30 minutes.
I got back shortly before the pizza and we stuffed ourselves (obviously, this was not a wheat-free weekend for me). While we were eating, more guests arrived and SIL had to go check everyone in. I cleaned up (we had been eating at the picnic table). I then headed to the office, where SIL was checking in the last guest to arrive for the day. It was a youngish couple (anyone who appears under 45 is youngish to me now - LOL), who was asking about hiking. SIL hadn't yet gotten to any of the trails, so I was happy to give them some direction to the two trails I had found.
While the young woman took their baby to their unit, the young man asked if they should drive, or if it was safe to walk there. I told him that most people gave wide berth to walker (as wide as they could, some roads were barely two cars wide), and as long as they walked facing traffic they would be good. I also told him that most of the people would wave to them - the islanders are truly friendly, even In the off-season.
After a few minutes of paperwork, SIL decided she wanted to show me the "Cliffs". Since it was late in the day (6-ish), she drove us there.
Posted by Bogie on April 11, 2015 at 04:16 PM in Life in General, Travel | Permalink | Comments (0)
Island Birthday - Part 2
The Cliffs were truly grand - giving a great view of the ocean, with a very nice staircase down to about 100 feet above the sands.
We then went to another viewing area further down the road, before we headed back to the Resort.
When we got back, I broke out some wine that I had brought to celebrate their first opening (for them, not the resort). We had some good conversation while I played with their kitty. Eventually kitty got tired and decided my jacket was a really nice place to snooze.
Sunday morning, SIL wanted to go to the Easter Sunrise Service at 6:15AM. So, we started walking about 6. The horizon was starting to show color when we got there, The service was beautiful, and short. The sun broke thru the clouds on the horizon shortly after the service started.
When we turned to head to the church for breakfast, I saw that there was a full moon too.
The church put on a great breakfast of scrambled eggs, ham, bacon (fresh, not store bought), potatoes and French toast made with cinnamon raisin bread - with real maple syrup. I put in donations for both of us since they had provided my room and two large meals while I was there (I took salads, sardines and bananas with me for my other meals). We walked the long way back to the resort to help all the food settle.
All too soon it was time to board the ferry for my trip back home. I had a great time, got to see and hike some new territory, had great food and even better conversation. I am so blessed that they invited me to come down (and meant it!). I hope to go again in the fall, when there is more color.
Posted by Bogie on April 11, 2015 at 04:15 PM in Family, Life in General, Travel | Permalink | Comments (2)
November 19, 2014
States I Have Visited
I am sure of these states. I was probably in Oregon too but don't remember as I was young (I do remember WA though)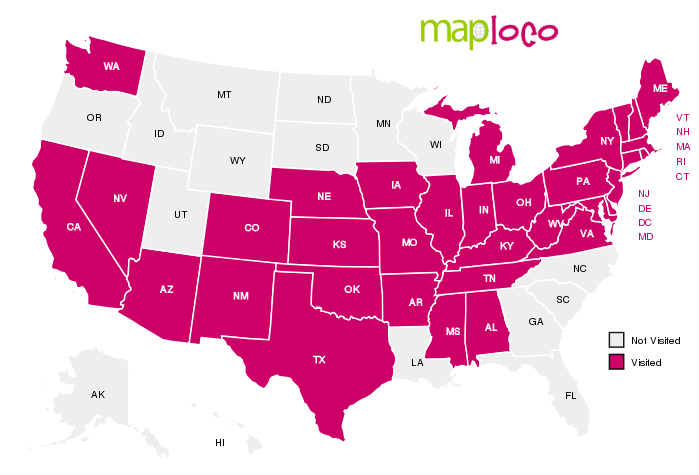 Create Your Own Visited States Map
Posted by Bogie on November 19, 2014 at 07:19 PM in Life in General, Travel | Permalink | Comments (5)
June 26, 2014
Riding Off
One of the gals that I rode with several weeks ago recieved a video (sorry, can't seem to embed it in the post) from one of the passengers of the Essex Ferry we took from NY to VT. Comes with sound too! I am the 4th rider off the ramp (on the best looking bike of course - LOL)
Here is a slideshow of pictures that I and the rest of the queens took on the trip.
</P
Posted by Bogie on June 26, 2014 at 06:28 PM in Motorcycles, Travel | Permalink | Comments (1)
June 19, 2014
Wednesday Happenings of Note
Two things of interest happened last night:
STBX is now the EX. I don't have the paperwork, but he texted saying he got the final paperwork from the courts.
Interesting phone call from a former co-worker and good friend. Things may be afoot, but too early to tell. I may have an opportunity to go to Isreal though. If it pans out, I'll have to get a passport.
Posted by Bogie on June 19, 2014 at 07:01 AM in At Home, Changes, Travel | Permalink | Comments (1)
June 08, 2014
Americade 2014
Left 6 Am Wednesday morning to meet a bunch of gals I know on a motorcycle forum in Chatham, NY for breakfast. Met some Blue Knight riders there (retired police officers), and they bought us breakfast - great way to start a trip! 
Then we rode to Lake George, NY to experience a bit of Americade (a biker rally). Yes, I know I went backwards to get there - I could have gotten to Lake George in just a little over the time it took me to get to breakfast. We spent some time walking around and shopping before finding our hotel for the night.
Thursday we left to go riding thru VT, taking the Essex Ferry from NY to VT. We stopped at the Dutch Mill Restaurant in Shelbourne, VT where the owners took great care of us. Mary (owners wife and hostess) was great. She had a fantastic sense of humor and was very friendly. The owner ran out to move his van when we arrived so that all 10 bikes could sit on fairly level ground. The food was very good and I heartily suggest stopping by there if you are ever in the area! She took pics with us - and this one really captures her spirit and personality (she is in the dress and the cook is the guy in back):
We ended up in North Conway, NH about 8 PM to spend the night. Then on Friday we rode thru the White Mountains. Some of the gals braved the Mt. Washington auto road even thought the weather was sucky (very foggy and fairly cold). I didn't go, with my fear of heights (and no gaurd rails on the road), and opted to do an alternate ride on the Kanc and thru a few of the notches. We got to Bentley's in Maine about 6 PM, where we spent the night.
Yesterday morning we road to the beach to walk the sands, then we all started the trip home. Some of the gals came from TN and GA, so they still aren't home now. There were several NY gals, who made it home shortly after I did - about 3 PM. I had a great time with the gals - I had never even met 8 of the 9 women. The one I had met, it was just for a short time 2 years ago, so I was unsure how the personalities would work out. But we did great together and I look forward to another ride together - perhaps next year.
Here are  a few pics from the ride: Americade, ferry ride, VT, Kanc, Bentley's
Posted by Bogie on June 8, 2014 at 07:50 AM in Friends, Motorcycles, Travel | Permalink | Comments (3)
May 26, 2014
Plymouth Trip
Last weekend I went with a friend down to Plymouth, MA to play tourist and to see the "rock" and "boat". The first thing we hit was Plimouth Plantation (no, that isn't a misspelling): It was facinating to get a close up of the rushed roofs, tools and implements and fences. Especially facinating were the stacks of wood which were placed in a circular pattern. Actually makes a sort of sense. There were people in character there doing chores and answering questions in what was believed to be the accent of that time period.
My friend got a couple of decent pictures of me (God, I'm slouching - I obviously have been neglecting those muscles when I work out).
Then we went to the shore to see Plymouth Rock and the Mayflower II. While visiting the Mayflower, a paddleboat went by. Those are always cool to see. Plymouth Rock is protected by a pillored monument, whcih has a dedication enscribed.
While walking off our lunch, we saw this memorial to fallen First Responders.
Had a great time playing tourist. Felt a bit guilty that I took a full day off from getting anything meaningful done, but sometimes you just have to do that.
Posted by Bogie on May 26, 2014 at 08:14 AM in Science, Travel | Permalink | Comments (3)