November 22, 2014
Long Winter's Nap
I have been trying to get my bike to storage since last Saturday, but haven't been able to find a ride to get back home. The one person I thought I could at least bribe with a meal, has decided I'm persona non-grata, and just said no. I wasn't going to ask EX after he helped me bring the stove home, so I had arranged to have it picked up by the dealer this coming Wednesday. It would cost me $50, but that was fine.
However, this morning EX texted me that he had just made a delivery for work to the seacoast and would be coming thru Concord (where the dealer is), so if I wanted to drop the bike off, he would pick me up. Worked for me so I dug my gear out of the downstairs closet (I had stowed everything away the night after I arranged the pick up), and rode to Concord in 20 degree weather. I was dressed for warmth with ear coverings under my helmet, t-shirt, sweatshirt, heavy leather coat, long johns, jeans, heated pant liner and chaps. I also had my mid-weight gloves, with in conjunction with my heated grips did a decent job of keeping my hands warm (except the fingertips, but it was still manageable).
So, I save $50 and got in a last ride today.
Posted by Bogie on November 22, 2014 at 09:55 PM in Motorcycles | Permalink | Comments (1)
More to Share, but Can't
I took a bunch of pictures last weekend, but can't share them with you right now. Sunday I went to download them and the card wouldn't read in the camera or thru the desktop. Cang, and I don't even remember what I had taken pictures of. The good news is that I had another card, so I can take pictures in the future. Hopefully I can figure out how to temporarily fix the old card and download those to see what I missed.
Posted by Bogie on November 22, 2014 at 09:44 PM in Cursed | Permalink | Comments (0)
Hiccups
Monday morning I got up and there was nothing exciting happening outside when I let Fuzzy out. 15 minutes later when I let him back in, it was snowing. That wasn't unexpected. Then by the time I left for work it had turned to sleet. That was not what I was hoping for.
Then, on the way to work I suddenly realized that my new auto insurance comapny had not yet sent me a bill. Two months ago I had called my agent informing her that the EX and I needed to split up our auto insurance. She did some research and found a company that would cost me $300 less per year than if I stuck with my old company. I don't know why they do that - the old company would rais my cost by nearly $300 becasue I was no longer insureing 2 vehicles with them. That is even though I insure my house with them. Stupid because they lost a customer. Anyway, the old insurance expired on 11/5 (or 15, I'm not sure). New insurance I hadn't gotten anything from. And seeing all the idiots on the roads that wanted to ride my bumper even though I was going the speed limit (and salt trucks were not out for the most part).
Called my insurance agent, who to her credit was in the office at 7:45 (I was planning on leaving her a message). She looked it up and the sign up was still "pending". However, she informed me that I did have insurance and sent me a temporary card by emial just in case I needed it. Great agent who I really appreciate. Finally got a bill yesterday, so I am feeling better about this small issue.
Then, I got home Monday evening and eagerly looked at the bathroom ceiling. The sleet had changed to rain, and we had gotten plenty of it thu the day, so it was a good test for the new boot the contractor put in place a couple of weeks ago. Hey, no wetness - Halalluha! I did catch wiffs of dampness, but didn't see anything amiss, so figured it was my imagination
At 9:15, I was getting ready for bed; brushing my teeth and washing my face. I turned off the sink water and realized I still heard running water - NOT GOOD. I then realized that water was pouring out of the door to the vanity - REALLY NOT GOOD.
I opened the door and started searching for a buste water pipe. Nope, no such thing. Then I saw this:
Okay, the paper towel wasn't there, but the drain pipes had separated. I moved everything out of the cabinet, including drawers, mopped up all the water, place the paper towel in the lower pipe to block off sewage smells, placed a mixing bowel in the sink in case I turned the water on in the morning, and went to bed.
During lunch on Tuesday I ran to the local Lowes (it is a mile away from work) and picked up a couple of flexible flanges as that is what broke. I had to study plumbing stuff for a while before I understood what I need since I have never done any type of plumbing work before. Put the flange on that evening, and it is holding fine. So although I had a bit of bad luck, I think it all turned out al right.
Posted by Bogie on November 22, 2014 at 09:41 PM in Cursed, House Work, Life in General | Permalink | Comments (1)
November 19, 2014
States I Have Visited
I am sure of these states. I was probably in Oregon too but don't remember as I was young (I do remember WA though)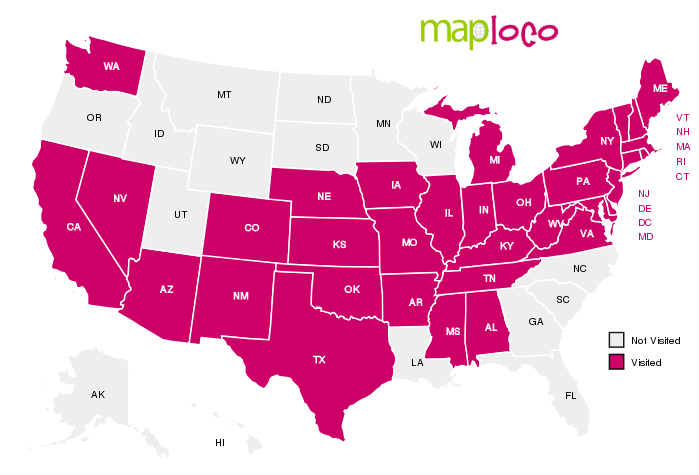 Create Your Own Visited States Map
Posted by Bogie on November 19, 2014 at 07:19 PM in Life in General, Travel | Permalink | Comments (5)
November 16, 2014
New Heater Time
I've been looking for a new pellet stove since the used Englander crapped out on the 3rd use. I looked at lots of new ones both at shops and on websites. I had plenty of choices that I would have liked to have, like another Harman (a smaller one), an Enviro Mini and others (I won't bore you by listing them all). Although looks weren't the first thing on my priority list, it was something I was looking at since the stove would sit in my living room.
Once I determined that all of my first choices (about 8), were really just out of my budget, I started looking on Craig's List. Any used Harmans were either more expensive than I planned on spending (for 10 year old stoves), and there were plenty of the Home Cheapo variety that people thought they could get their money back on (not from me they weren't).
Monday I went to look at a St. Croix Greenfield stove. ST. Croix is a well respected name, the stove had been test with Outside Air Intake (OAK), and had reduced minimum clearances from doors/windows (1st priority as the exhaust goes between two windows about 2' from each) and is a really nice looking stove. Downfall - no electronic ignition so either it is on or off. Sure, there are multple heat output settings, but my Harman will idle for an hour and if no heat is called ofr, it will shut down until heat is needed. Thsi is a big pellet saver. Anyway, I looked at the stove and saw how easy it was to light (very easy, so would be simple to start up when I get home from work).
However, the blower fan didn't seem to be working properly, although the owners didn't realize it. They had bought it new in 2008 and had always worked that way. Well, a lot of St. Croix 2008 stoves either had blowers that didn't run right to begin with, or blowers that quit working properly after some use. Sure, air comes out, but at that rate that would really only warm up my living room and never reach the bedroom. I passed on that stove.
The next day, a St. Croix Harding came onto CL for the same price as the Greenfield. Same year and basically the same model, but with elcetronic start and ability to control it with a thermostat. I went and looked at at Thursday and watched it start up and run. The guy had replace the blower so it was good. I offered them their asking price as long as they threw in the hearth that it was sitting on (much nicer than the hearth I had), and they accepted. Friday EX drove all the way out to Hollis (40 miles) loaded it up and delivered it to my place.
Yesterday I set it up, with some finageling of the pipes (it's exhaust is a little lower than what I had run for the old Englander). Well, there was an issue because I was a dummy and didn't manage to remove all the wadded up newspaper that I had placed in the pipe to keep cold air from entering the house. It go smokey in the house real quick, before there was any fire, and it leaked out the stove door. I opened doors and windows (20 degrees outside) and put the Harman on High, Set my fans to evacuate the smoke, moved Birdie to another room and disconnected the smoke detectors. Even after removing the remaining paper from the pipe (fortunately it was the straight pipe that could be reached from outside of the house), the exhast pipes never got any heat, so the smoke just kept going into the house.
After about an hour, the stove quit belching smoke, and 1.5 hours later enough smoke had cleared from the house and I could close everything back up. I turned on the propane heater to get the temp to 64, then shut it down and let the Harman do the rest.
Today, I searched all around until I finally found new gasket material for the door (the old gasket wasn't as tight as I would have liked) an finally got it installed about 3. I waited an hour for the high temp glue to cure, then fired up the stove.
It is now a balmy 80 degrees in the living room as I figure out how to adjust the flame for optimum burn (something that the Harman does by its lonesome - but the St. Croix doesn't). I have turned all the register fans off and have a couple of fans set to move the air; one on the floor of the bedroom blowing cold air out and the other blowing warm air in (obviously higher up).
The room started out at 63 degrees and is now at almost 66 (I just set up the fans about 30 minutes ago). The bathroom is warm without a fan setup and the craft room seems to be warmer than it was (I really don't care about that room as long as it is warm enough that the FHW pipes don't freeze.
Ahhh, warmth!
Posted by Bogie on November 16, 2014 at 06:38 PM in House Work | Permalink | Comments (2)
November 11, 2014
Thank You Veterans
Thanks to all who have served, all those currently serving and those who have signed up to serve. And a special Thank You to the families who had relatives who served and paid the ultimate sacrifice!
Posted by Bogie on November 11, 2014 at 05:32 PM in Seasonal | Permalink | Comments (0)
November 09, 2014
Humor for the day
Seen on one of those electronic speed limit signs in Hillsboro, in a 30 MPH zone (it may, or may not, have been directed at me)
39
OMG Dude - Slow Down
This isn't NASCAR
Who says the cops have no sense of humor?
Posted by Bogie on November 9, 2014 at 05:07 PM in At Home, Funnies | Permalink | Comments (0)
Playing with Power Tools
When we last left my progress on finish work in some of the rooms, I realized there were huge gaps between the wall sheetrock and the ceiling tiles, letting in cold air from the attic.It was fortuitous that I had only tacked up some of the crown molding but most of it wasn't up since I had to trim it as the installed sheetrock was thicker than what I had torn out.
In preparation for the finish work, this summer I bought an air compressor on sale, and a 4-pack containing pneumatic guns that could handle various sizes of finish nails/staples when they were on sale. Then, a couple weeks ago I bought a 10" sliding compound miter saw (I wanted a dual miter, but that was way too much money to justify spending). I got the slider as it can double as a 12" radial arm saw too. The craft room has been doing duty as the workshop for now.
Once I got all the gaps properly filled, it was time to figure out how to use my power tools. I broke in the compressor a couple of weekends ago (per instructions), and oiled up the 16 guage nail gun (per instructions) and set to work yesterday. I managed to get up all the molding for the bedroom, two walls worth in the craft room (the rest had just come down to fill gaps, so it isn't painted yet), and almost three walls in the living room.
In the living room, somewhere I either misplaced a short section, or it broke when I removed it (hell, that was back in June, I can't remember). Also, I haven't removed the molding along the wall opposite the door and bay window. The couch is just under it, and I don't feel a cold draft. Plus, I am still dithering over what I am going to do with that wall, so will leave it for later.
The crown molding isn't perfect by any means - it isn't really a job that one person can do perfectly (especially at corners), and the old crown molding isn't in the best of shap anyway. But, as I indicated in previous posts, the ceiling will eventually be replaced with sheetrock, and there aren't any glaing issues that pop out to the casual glance, so it is good enough for now.
Posted by Bogie on November 9, 2014 at 07:48 AM in House Work | Permalink | Comments (2)
Sheetrock Girl
Last weekend I got the bathroom, outside wall sheetrock up. I have been waiting for the contractor to come fix the ceiling (from when it leaked) before doing so, but it has gotten cold, and the wall lets in so much air (even with plastic up), that I could wait no longer.
Two cuts, two pieces of sheetrock up. Naturally the wall is over 4 feet wide. so had to use 2 whole pieces of sheetrock to do the job, but I got a nice tight fit to the corners. I did leave a small gap for the ceiling to be taken out - but just enough room. I didn't place screws at the very top, just in case I have to trim the wall down just a bit. And, I haven't done any taping or mudding until I am sure none of it has to come back down. However, I did get two coats of moisture and mildew resistant paint so the steam from my shower won't degrade it any while I am waiting to finish up.
On another note, methinks a contractor is not caring about the hold back and is uninterested in fixing his mistake. I may have to do something about that.
Posted by Bogie on November 9, 2014 at 07:20 AM in House Work | Permalink | Comments (0)
November 08, 2014
Good Deed for the Day
I ran into town to get a few things from the local hardware store. I noticed an older couple loaded with plastic grocery bags and backpacks walking the opposite direction and thought to myself if they were still walking when I was headed home, then I would offer them a ride.
By the time I got out of Aubuchons, I had forgotten all about the coupld. But I saw them walking a little ways down the road so turned into a parking lot and told them that they looked like they were pretty loaded down - would they like a ride?
They were happy to accept a ride, and it turns out that they live in an apartment building just a couple of blocks away - one I pass anyway, so I didn't even have to drive out of my way to deposit them to their "doorstep".
He (predictably) had lost his license so couldn't legally drive his truck (I'm guessing DWI). Never heard why she couldn't drive the truck, but didn't ask and figured it was none of my business. I was on the walking end early in my life (car broke down and had no money) and had plenty of people offer me rides, so figured this was a chance to pay it forward.
Felt good to be able to do for others who weren't looking for help, but could appreciate when it was offered.
Posted by Bogie on November 8, 2014 at 08:21 PM in Life in General | Permalink | Comments (0)